In Australia, birds are one of our number one problem animals. Not only do they damage farm crops but they are a pest to owners of commercial buildings, schools, playgrounds, gardens, parking lots, warehouses and many more locations.
Although there are many methods to help you with your bird control problem, they can also be harmful to the birds and not environmentally safe.
So what are the types of bird control and the best method to use?
Types of bird control:
Netting

Spikes

Electric Deterrent

Shock Tape
Bird Netting
:

Bird netting is the most effective method for bird control and it's harm free. It's used to prevent birds from causing damage to a particular area/ building. 
The netting is applied to the roof area to stop birds landing and nesting there.
It's commonly used for:
Protecting farm crops – via flexible netting

Building protection – such as schools, industrial buildings, undercover areas, warehouses – via fixed netting

Outdoor Enclosures – to cover an area so birds can't get in but to let it be exposed otherwise
Bird Spikes:
A bird spike is a long piece of metal with long spikes pointing upwards and is commonly used to keep wild birds away from areas that they cause damage to. The spikes can be used om top of street lights, buildings and other commercial areas.
Electric Deterrent:
An electric bird deterrent system is effective against all birds. It works by giving the birds a small shock when a bird lands on the track and their behaviour is modified as they learn not to perch where a shock is installed.
Shock Tape:
Shock Tape is a cost-effective, easy-to-install and efficient electric shock system available for bird control. It emits a non-harmful, static-like shock that frightens the birds.
Although all of these methods are effective what we offer is the most beneficial and harmless method of bird control.
Bird Proofing Australia bird netting control solution: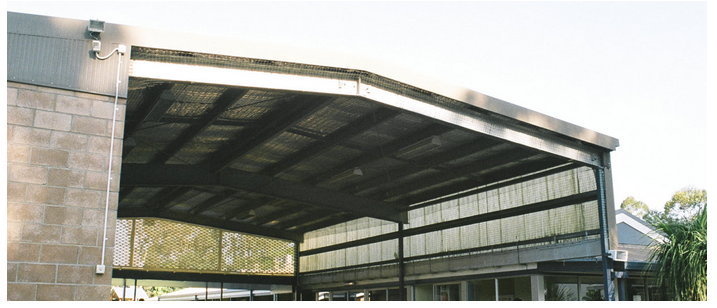 Bird Proofing Australia provides bird control netting solutions for your commercial outdoor structures, such as undercover play areas, warehouses or sheds, with a permanent bird control net that's barely visible against the structure. 
Suitability and benefits of installing a permanent netting deterrent include:
eliminates property defacement 

Eliminates damage

Eliminates diseases

Reduces bird noise

No chemicals involved

No guns 

No technology involved

And NO ugly spikes

Provides a discrete barrier 

Protects your area

Does Not harm the birds
 This is a simple bird netting solution that is guaranteed to get rid of your bird problem and is 100% safe for you, the birds and the environment.